The Boston African Diaspora Roundtable that took place on April 27th brought together key diaspora activists, scholars, and policy experts for collaborative discussion, policy action and research relating to diaspora engagement. The event sought to generate new policy-oriented knowledge about diaspora organizational needs. The African diaspora has potential to be a progressive and integrative global force particularly at the current historical moment. The forum built on the agenda of the African Union to create broader global possibilities for sustainable dialogue, productive partnerships, and Pan-Africanist solidarity to advance Africa and its diaspora. The event was co-organized by Constituency for Africa, Boston University, and Harvard University.
Diaspora engagement and empowerment have emerged as central topics among African diaspora actors and diaspora studies institutions. There have been increasing calls to the U.S. administration to support human capacity development for an improved regional cooperation and integration in Africa, as well as facilitate linkages with African-Americans and Africans throughout the diaspora in support of development in Africa. The African Diaspora Roundtable was convened around the increasing recognition that a sustained collaboration between the diaspora actors, policy makers and scholars is essential for developing a comprehensive strategy to engage and mobilize the African diaspora in support of major U.S.-Africa policy initiatives. Diaspora organizations are experts regarding the opportunities as well as challenges that are offered by their communities of origin, and should participate as equal and independent partners in policy-making processes.
The Diaspora Roundtable was introduced by its co-organizers Mr. Melvin Foote (Constituency for Africa), Dr. Wilfred Ngwa (Harvard Global Health Catalyst), and Dr. Daivi Rodima-Taylor (African Studies Center Diaspora Studies Initiative, BU) and attended by representatives of approximately 40 diaspora-related organizations and institutions. The keynote speeches by Ambassador Dr. Arikana Chihombori Quao, the African Union Permanent Representative to the United States, and Dr. Julius Garvey, the son of famed Pan-African leader Marcus Garvey, sent a powerful message of cooperation and unity and were instrumental in catalyzing productive discussions and the sharing of important strategic ideas around the topics of diaspora engagement.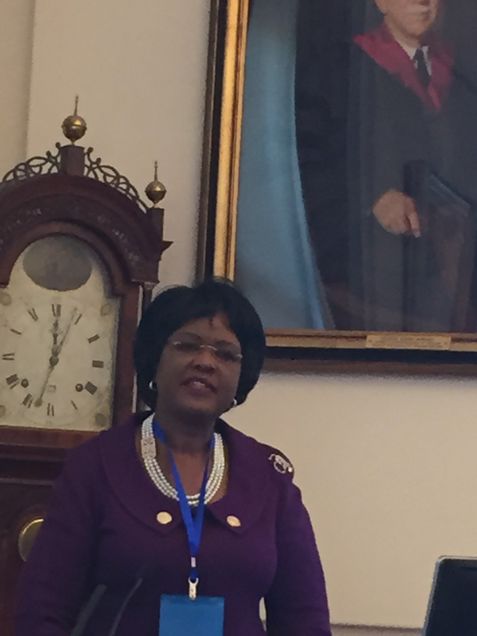 Ambassador Chihombori Quao highlighted the need of the African diaspora to unite to successfully overcome its post-colonial heritage, and fully realize their potential as educated and productive members of the emerging transnational global community. She called for facilitating productive partnerships between the African Union and the diaspora through innovative networking and communication platforms, creating better opportunities for diaspora involvement in Africa's development. Dr. Julius Garvey elaborated on the themes of unity and collaboration within the diaspora, illuminating the continued relevance of African culture, cosmology, and social institutions in the productive lives of Africans all over the world. He highlighted the need to facilitate institutional infrastructures that learn from and build on these holistic and innovative synergies between person and his or her social and ecological environment. Mr. Bo Machayo of The U.S. African Development Foundation emphasized the transformative role of diaspora investment in local African enterprises as a driver to creating peace and prosperity in the region. He expressed hope that the forum discussions lead to a more informed and efficient alignment of priorities between the diaspora community and African countries.
The Roundtable discussions focused on the strategies and policies of facilitating productive diaspora engagement for the development of the communities here and in Africa, and promoting inclusion and increased participation by the African diaspora in all aspects of U.S.-Africa engagement. Attention was on the issues of diaspora organizing and networking, its economic, social and cultural contributions in the form of individual and collective remittances, diaspora investment and entrepreneurship, and the effects of diaspora activities to the formation of new transnational identities, institutions, and knowledge systems. The Roundtable set forth an agenda to work towards building innovative platforms for more inclusive engagement of diaspora actors at the grassroots levels, as well as public and private sectors, including academia.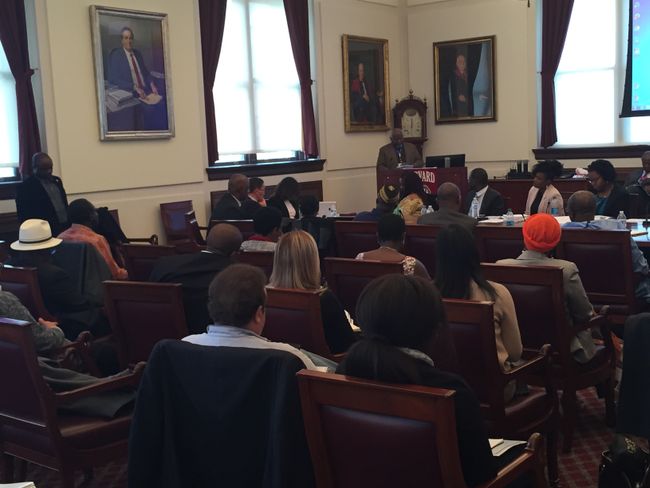 Prof. Wilfred Ngwa of Harvard Medical School highlighted the unique opportunities for diaspora collaboration and growth that were inspired by this gathering of diverse diaspora actors: "The Swahili word Harambee, meaning 'all pull together', appropriately captures the historic meeting that took place at Harvard on April 27, 2017. We had the African Union Ambassador to the USA, Dr. Arikana Chihombori, representing the neo-diaspora; we had CFA president Melvin Foote, representing the African American Diaspora, we had Dr. Julius Garvey, son of legend Marcus Garvey representing the Diaspora from the Caribbean and elsewhere; and then we had Dr. Daivi Rodima-Taylor who is a venerable African at heart representing all those who may not appear African at first sight, but who champion the cause for a better Africa each day with all their heart and soul. For the first time, Africans in diaspora, regardless of their history, or background, or skin-color, pulled together as one: Africans in Diaspora (AiD) united for Africa. I look forward to the policy recommendations from this meeting, and future meetings which will continue to grow and welcome participation from the diaspora for high impact on the ground in Africa. The Boston African Diaspora Engagement Roundtable also set the tone for the highly successful Global Health Catalyst summit from April 28-30, which included ministers of health from Africa, the new Director of the African Center for Disease Control (CDC) and many leaders from African Institutions who would benefit directly from AiD united for Africa, for sustainable impact in healthcare and development of local African communities."
Mr. Melvin Foote, President and CEO of Constituency for Africa, pointed out that the Diaspora forum was highly successful: "The keynote addresses made by Ambassador Dr. Arikana Chihombori, the African Union Permanent Representative to the United States and Dr. Julius Garvey, the son of famed Pan-African leader, the Honorable Marcus Garvey, were excellent and certainly set the tone for a wonderful discussion. Our selection of participants, with an emphasis on real Diaspora leaders in the Boston area as well as from Washington and elsewhere, was also unique and elevated the importance of the meeting. The room was full of 'stakeholders'." Mr. Foote also emphasized the great demand for collaborative follow-up activities that became evident at the Forum: "In this regards, while the collaboration of CFA/Harvard University and Boston University was critical in organizing the Diaspora forum, the follow-up will be predicated on the emergence of a strong coalition of some of the leaders who attended on Thursday, to take the lead in helping to set goals, to work out a good strategy and to organize the follow-up. I think that we can help to forge the Boston coalition, which would constitute a step forward. Without a coalition everyone will continue to approach the work in a fragmented and piecemeal fashion — competing and contradicting one another."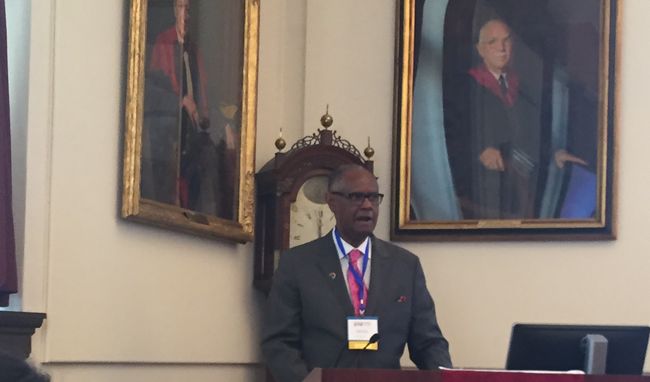 The Roundtable participants highlighted the role of the forum in providing an empowering venue for diverse diaspora actors and organizations in facilitating discussions about the challenges and potentials around the issues of diaspora engagement, organization, and cooperation. Ms. Emma Orefuwa (CORDS/London, U.K.) remarked: "The Boston Diaspora roundtable was a great opportunity to learn about various diaspora led initiatives occurring in the US, and exchange ideas with other like minded individuals on how to address common challenges faced by diaspora with regards to mobilising and organising resources for development activities. An important issue raised was the lack of structured pathways for engagement with the continent, in particular for younger generations of diaspora. I look forward to strengthening links between U.S. and U.K. diaspora in order to maximise the collective impact of the diaspora towards the development of the African continent."
Mr. Amadu Massally, Sierra Leone Diaspora Organizer, stated that the African Diaspora can be seen as Africa's greatest offshore asset as it can bring both financial resources and professional competencies to their home communities in Africa. He added: "But it is evident that more needs to be done to make information, resources and possibilities more accessible to diaspora members as well as to African countries seeking diaspora resources. Diaspora still often lacks a voice to speak on their collective objectives due to trust issues and divisive practices found in ethnicity and nationalism." Based on his years of experience as a diaspora activist, organizer, and consultant to numerous diaspora oriented development initiatives, Mr. Massally pointed out that there is a lack of a proven methodology to engage the diaspora based on informed research, and diaspora-oriented policies and ideas are often not adequately vetted by the very people who they are seeking to engage. He expressed his hope that the new collaborative ties that were forged between diaspora leaders, activists, academics, and policy makers at the Diaspora Roundtable would catalyze a more participatory and inclusive engagement that brings together people of African heritage and origin both nationally and globally.
Mr. Leonard Tshitenge, the Boston based American Congolese poet, activist-intellectual, and co-founder of the Progressive African Network, said that the forum was incredibly well-organized and enabled powerful engagement, re-fueling his passion and energy to continue the diaspora work that he does in the Boston area and beyond. His key take-away's from the roundtable discussions included the need to develop a system of dialogue and solidarity among various African diaspora organizations and create visibility to promote community partnerships and bring together diaspora voices and talents. The creation of such communication platforms should attempt to address the needs of recent African immigrants as well as all Americans of African heritage and build more unity and cooperation among the diaspora, said Mr. Tshitenge. Mr. Ahmadou Balde of the African Bridge Network added, "The African Diaspora Roundtable initiated a new spirit of dialogue among different members of the diaspora and reminded us the necessity to build bridges to leverage the strength of the diaspora."
Ms. Yvette Modestin (Encuentro Diaspora Afro; Network of Afrolatinamerican Women; ARAAC EEUU) stated that she found very relevant the questions posed by Ambassador Chihombori Quao about the African diaspora post-colonial heritage that tends to be perpetuated in social boundaries as well as the boundaries of the mind: "As an African-American woman from the Americas, my response is that we should try to establish better communication between different diaspora groups. We should not allow the structures and languages imposed by colonization to create deeper boundaries between us. There are 200 million people of African descent in Latin America and the Caribbean. These communities are deeply connected to their African roots and many have retained their African traditions. It is time to build a unified African agenda that includes Latin America and the Caribbean. ARAAC EEUU looks to work with those in attendance to build that agenda that would help liberate all of our communities."
Dr. Daivi Rodima-Taylor of the BU ASC Diaspora Studies Initiative added: "We want to thank all of the participants for making the wonderful African Diaspora roundtable event possible, and facilitating the gathering of so many people committed to the activism and study around the issues of the African Diaspora. Our special gratitude goes to our keynote speakers Ambassador Dr. Arikana Chihombori Quao, the African Union Permanent Representative to the United States, and Dr. Julius Garvey, the son of famed Pan-African leader Marcus Garvey. These keynotes that sent a powerful message of cooperation and unity were instrumental in catalyzing the following session of productive discussions and important strategic ideas around the topics of African diaspora engagement. The Roundtable conversations gave rise to important new ideas for building innovative institutional and technological platforms for more inclusive engagement of diaspora actors at the grassroots levels. We were particularly happy to see so many diaspora leaders and activists in the room – from Boston, Washington, and other places as far as Texas. Special thanks go to our co-organizers and partners from Harvard University (Prof. Wilfred Ngwa) and Constituency for Africa (Mr. Melvin Foote), and we hope to continue our collaboration in providing facilitation towards an emergence of a strong coalition of diaspora leaders, activists, and researchers, in collaboration with the African Union."
African Diaspora issues were also explored via visual medium as the Roundtable included a pre-screening of the upcoming documentary by Cote d'Ivoirean-American film-maker Zadi Zokou, "Black n' Black", exploring tensions and misconceptions but also common agenda between recent African immigrants and Americans of African heritage. The film emphasized that mutual learning and communication would help understand how contemporary African immigrants may benefit from the historical struggles of African Americans, debunk stereotypes and misconceptions, and explain the strategic need to unite to further common economic and political interests. The preview of the film catalyzed a lively debate among the Roundtable audience. Mr. Zokou noted that he loved the reaction of the people to the film and their willingness to engage in the discussion, and expressed his hope that the film will inspire broader fruitful debates and conversations.
Previous events facilitated by the Boston University Diaspora Studies Initiative around diaspora engagement topics include the Diaspora Networking and Fundraising Workshop that took place in December 2016.
This article was pulled from Boston University's Pardee School of Global Studies African Studies Center's website.
See source: http://www.bu.edu/africa/resources/dis/the-african-union-constituency-for-africa-boston-university-and-harvard-university-unite-around-african-diaspora-engagement/